Description
Product Introduction
HYPREX- Worlds' Most Advance Fire Extinguisher
The revolutionary HYPREX fire extinguisher is light-weight, maintenance-free and no training required to operate. The nano particles of plant extract ensures fire can be extinguished in the matter of seconds.
Ideal For Household & Vehicle Storage
HYPREX which implements advance canning technology with bag on valve system is suitable to be stored anywhere in household or vehicle even under extreme temperature.
---
Product Highlights
Fast Extinguishing

The Nano particles of plants extract penetrate deep to the base of fire and extinguishing it almost instantly upon contact.

Rapid Cooling

Fast heat reduction feature are able to reduce the temperature from 600°C to 50°C in the matter of seconds hence ensuring no re-combustion

Long Shelf life

Our fire extinguisher has a long shelf life and does not require any maintenance. It can be stored in various place for easy access.

Safe for Vehicle Storage

Our fire extinguisher is pressurized by non-flammable nitrogen gas. It is tested to be safe under extreme heat.

Household Usage

Hyprex is a recommended fire extinguisher for every household as it is very efficient in combating common household fire.

Eco-Friendly

The plant extract of Hyprex is non-toxic and it does not cause after- usage mess. It is extremely safe towards human.
---
Product Video Introduction
---
Product Application Examples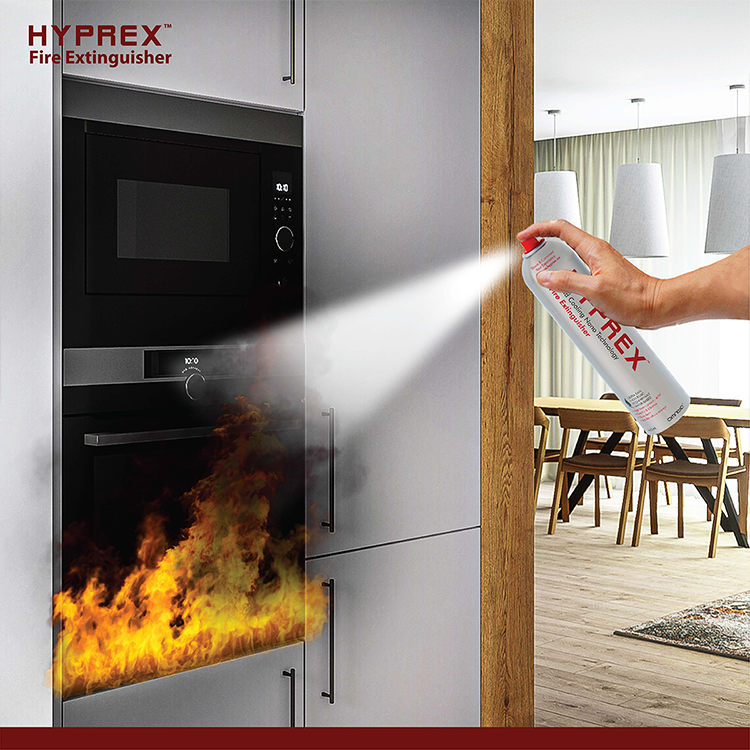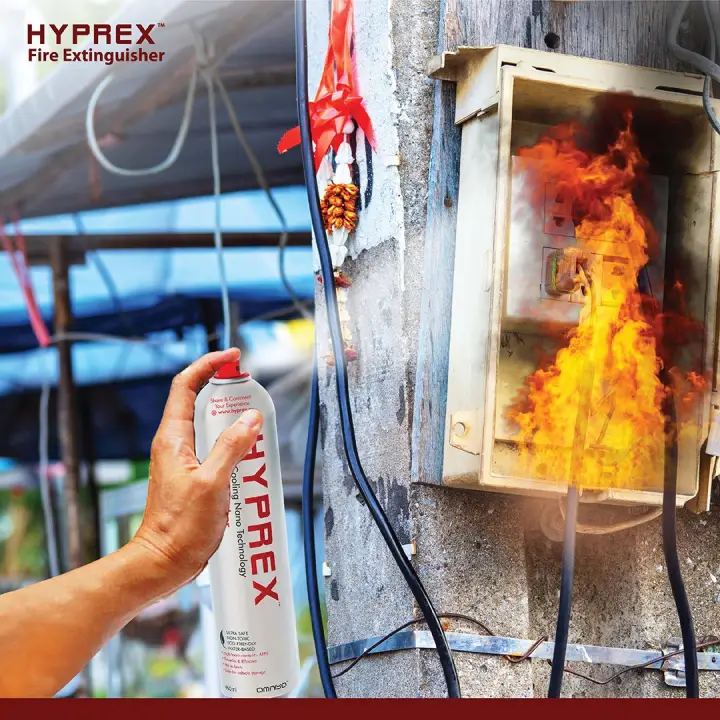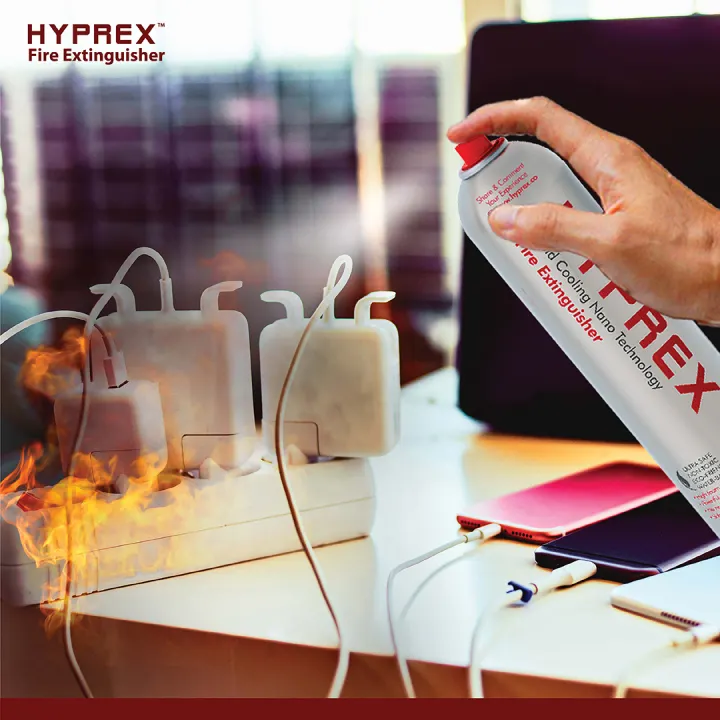 ---
Certifications & Test Reports
SGS SVHC (REACH) non-toxicity test
Certified by Petroleum Consortium LASTFIRE Test Protocol
UL 162 Compliance Certified for liquid concentrates used for fire extinguisher
Certified by ISO 9001
Passed Taiwan's Ministry of Economic Affairs Bureau of Standards, Metro-logy & Inspection (BSMI) approved on Zero toxicity heavy metal composition fire extinguishing competence
Quality assurance certified for fire equipment from China National Accreditation Service for Conformity Assessment (CNAS)
Passed environmental inspection by the Australian Defense Science and Technology Organisation (DSTO)
China Compulsory Product Certified for Fire Products (CCCf)
Worldwide Patent Certification
---
Frequent Ask Questions
1) How powerful is HYPREX?
Hyprex fire extinguisher's power is equivalent to 3kg of conventional dry chemical fire extinguisher. The average discharge time of Hyprex is 12-16 seconds and it is ample to extinguish fire.
2) Is HYPREX difficult to clean up?
Hyprex's mainly is made of natural plant extracts which is not toxic. After-use cleanup is virtually not needed as Hyprex does not cause any mess and foul smell.
3) Is HYPREX hard to operate?
Hyprex can be used by a wide age range of users as it implements a point and shoot concept. The light-weight fire extinguisher is extremely user friendly and it is able to be operated even by children or senior citizens.
4) Is HYPREX safe for vehicle storage?
HYPREX which uses advanced canning technology is safe to be stored under extreme heat in a vehicle. It is pressurized by non-flammable nitrogen gas. It is tested and certified by many countries' government body.
---
What's in the Box?
HYPREX Rapid Cooling Nano Technology Fire Extinguisher (Single Pack)
OR
HYPREX Rapid Cooling Nano Technology Fire Extinguisher (3 Set Combo)
OR
HYPREX Rapid Cooling Nano Technology Fire Extinguisher (5 Set Combo)