Description
Product Introduction
Access control system is one of the most commonly used system in electronic door control using a card or a magnetic stripe which gives access by swiping through a reader on the door. Usually an access control system comes with a keycard, which is a security token that grants you access through electrically-powered doors. These systems require a keycard reader (installed on the door) and you gain access by either tapping your card on the reader (proximity reader), swiping it (swipe reader), or inserting it (insert reader).
By this card access, the control system allows access to people entering and exiting into the premises. Access control systems may also be used to control access into certain areas located within the interior of buildings. The purpose of an access control system is to provide quick, convenient access to those persons who has authority, while at the same time, restricting access to unauthorized people. With an effective access control system, you eliminate the possibility of an easy entry, helping to reduce the overall risk of theft and vandalism. Access control lets you secure various access points in your premises. There are 3 Types of Access Control Systems. They are Discretionary Access Control (DAC), Mandatory Access Control (MAC), and Role Based Access Control.
---
Product Highlights
DAHUA ASC1202B-S Two Door one-way Access Controller Control Panel

Support 100,000 valid cards & 150,000 records
Support multiple cards
Support card, password, fingerprint and combination
TCP/IP interface to PC
Wiegand or RS-485 interface to readers(2 door)
Door time out alarm, intrusion alarm, duress alarm and tamper alarm
Anti-pass back, multi-door interlock, multi-card open
Support 128 efficient time and holiday schedules
Watch dog function ensure device free from halting
Surface mounted installation

DAHUA ASR1200E-D Weatherproof EM RFID Reader 
The reader support wiegand, it means you can integrate it with the third party controllers. Certainly, any Dahua access controller can connect to the reader by using wiegand or RS485. For RS485, it support 100m distance when power supply from controller. If power supply separate, it can extend to 1000m. The slim and water-proof design can make it used in any environment.
Wiegand34(26 optional) bits RS-485 protocol
125KHz(EM-ID)
Water-proof design
Red, blue and green indicator LEDs
Surface mounted installation
---
Product Datasheet Catalog
DAHUA ASC1202B-S Two Door one-way Access Controller Control Panel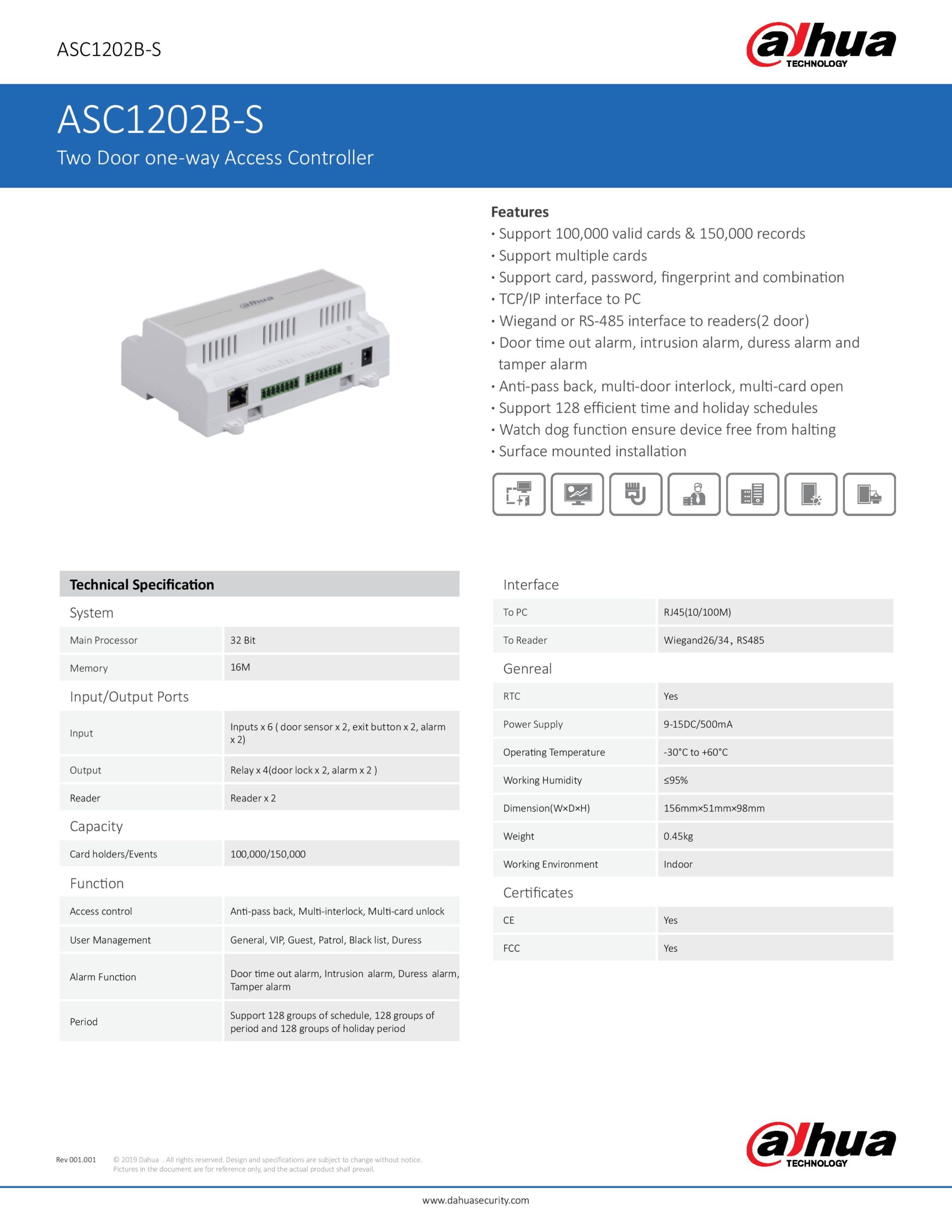 ---
Product Warranty
1 Year
---
What's in the Box?
1 x DAHUA ASC1202B-S Access Control Panel (3K FP, 100K Cards, 150K Log)
1 x ZKTeco 12V 5A Switching power supply with battery charger in metal casing (TPM005B)
1 x GPower 12V 7Ah Backup battery (PBB001)
1 x DAHUA RFID EM Weatherproof Card Reader (ASR1200E-D)
1 x Magnetic Contact (AMC001)
1 x 600lbs EM Lock (E600-SL)
1 x Emergency Break glass – Green (DBG005)
1 x Exit Push button – Big (DPB001)
1 x Wide Range Buzzer (BUZZER)
10 x Proximity EM card (Thick / Thin)
🔥

FREE GIFT : Access Control Management software (Smart PSS-AC) with Basic Time Attendance

🔥