Description
Product Introduction
Secolink PAS832 Series Alarm Control Panel
PAS series control panels perform all necessary functions to protect all types offices, homes or villas. Additional features of this series are especially highlighted in countries where landlines are still popular. During an alarm PAS panels can call user's phone through a built-in telephone communicator and vocally report about the nature of an alarm. All models protect four partitions and depending on the panel being used it can have up to 8, 16, or 32 zones in the alarm system and can be controlled by max 31 users.
High resolution graphic LCD keypad KM24G
KM24G is high class LCD keypad that is suited for all SecoLink alarm systems that have up to 64 intrusion detectors and up to 63 users. KM24G LCD keypad is recommended when the alarm system is using GSM module GSV6 or GSV-P. Using KM24G makes it even easier choosing which GSM messages the user wants to receive. For the convenience of the installer the KM24G has a System Programming Wizard.
---
Secolink Alarm Panel Comparison Chart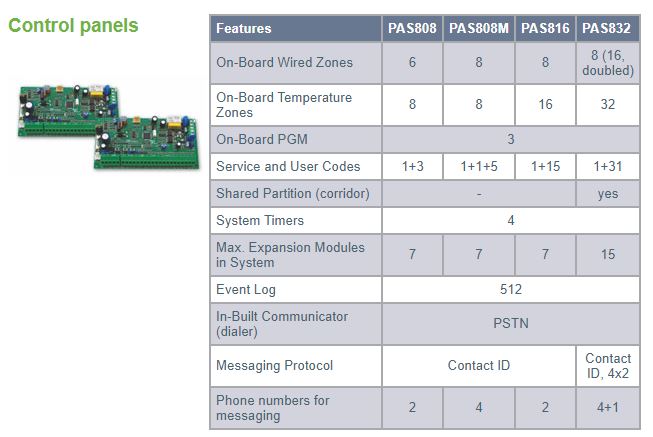 ---
Secolink Alarm Keypad Comparison Chart
---
Secolink Zone Expander
---
Secolink GSM Module
---
Secolink Accessories
---
Product Catalog
---
Product Installation Manual
---
Product User Manual
---
Product Warranty
2 Years
---
What's in the Box?
SECOLINK PAS832 8 Zone Expandable to 32 Zone Alarm Control Panel x 1
SECOLINK KM24G High Resolution Graphical LCD Keypad x 2
12V 7AH Alarm Backup Battery ( 1 Year Warranty for Battery ) x 1
16.5V Transformer x 1
Metal Cabinet x 1
GSM / SMS Module (GSV6C) x 1
Vibration Sensor x 10
Door / Window Magnetic Sensor x 5
Outdoor Siren Set (Include Strobe Light, Siren Horn, Siren Box and Tamper Switch) x 1
Internal Siren x 1