Description
Product Description
DCMOTO GFM925W is a conventional auto gate system that is suitable for swing or folding auto gates. With a built-in DCMOTO Hybrid Power System in the auto gate motor, up to 95% of electricity cost is saved, resulting in decreased energy consumption and CO2 emissions. Feel free to browse all kinds of compatible auto gate accessories for DCMOTO GFM925W on our website.
Shop for auto gates, auto gate systems, auto gate accessories, and more exclusively from Security System Asia.
---
Product Highlights
 Hybrid Powered: Reduce 95% Electricity Cost

DCMOTO HYBRID POWER System will cut off the main supply during standby.

Infrared Safety Beam Safety Feature (Optional)

Reverse open when the infrared safety beam detected an obstacle

Automatic Close Timer Setting Feature (Must Install with Infrared Safety Beam)

The gate will close automatically after being opened for a preset time

Motion Lock Safety Function

To inhibit the gate from motion for some emergency occasions

The emergency alarm can be triggered with the remote control or keypad
Intruder Alarm Safety Features (Must install with Infrared Safety Beam)
Automatic Lightning when the gate is open or switch from the remote control keypad
Maximum Support Swing Type Gate up to 4M or Folding Type Gate up to 8M
Built-in Electromagnetic Lock
Multi-Function 4Channels Remote Control
Suitable to use for Swing / Folding Type Gate
Easy Release in case of Emergency Power Failure
---
Product Catalog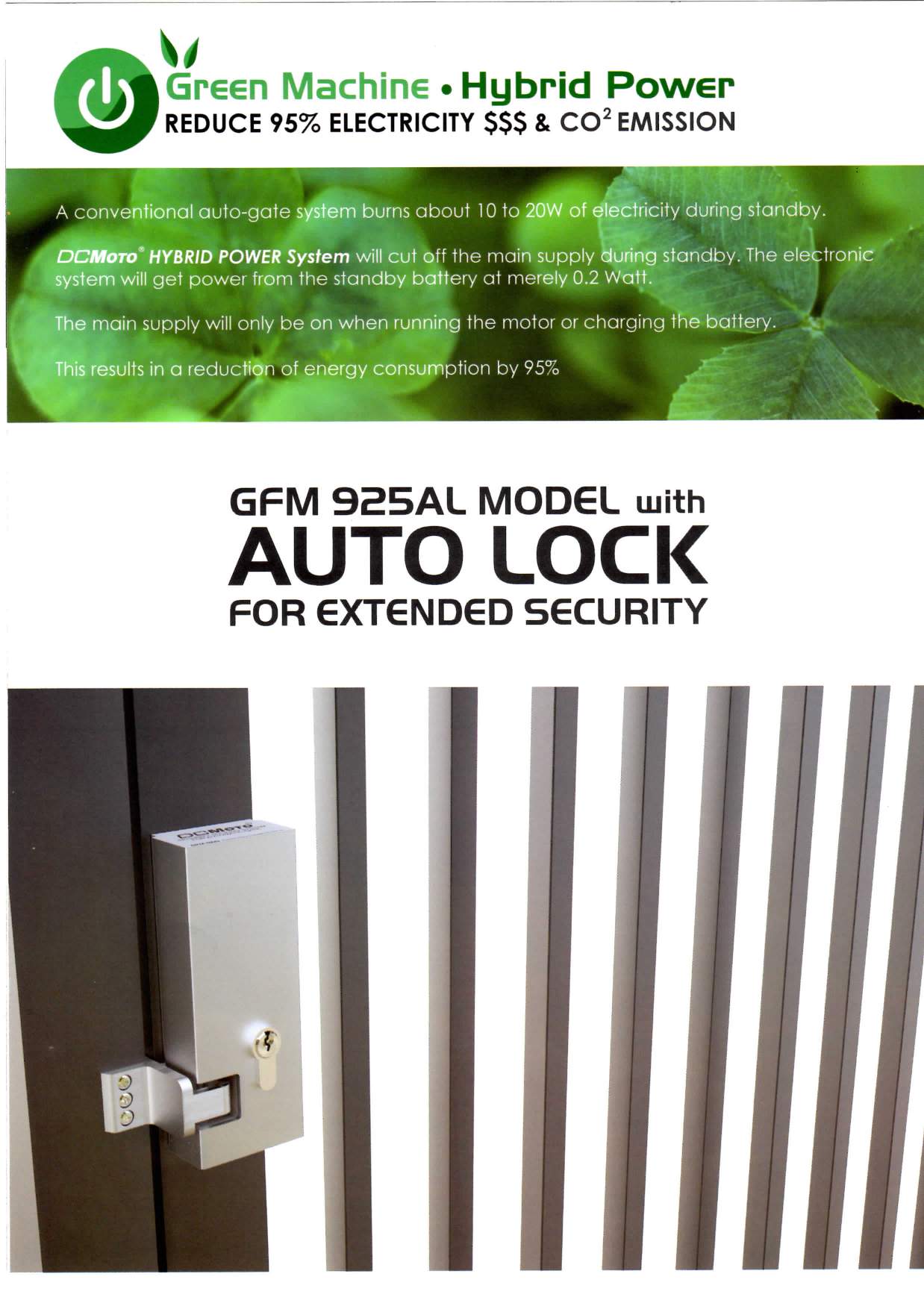 ---
Product Warranty
2 Years
---
What's in the box?
DCMOTO GFM925W DC Motor x 2
Auto Gate Panel Board x 1
Power Transformer x 1
Multi Function 4CH Remote Control x 3
Indoor Wireless Keypad x 1
PVC Box x 1
Installation Accessories
User Installation Manual