Description
Package Highlights
5 Years Full Coverage Worry-Free Warranty
What do we cover in 5 Years?
✅ Free Auto Gate Problem Checking
✅ Free Auto Gate Servicing
✅ Free Spare Part Replacement
✅ Free Insurance Coverage for all Cases
Flood Covered✅
Lightning Strike Damage Covered✅
Robbery Covered✅
Car Accidently Hit Motor Covered✅
✅ Promise No Ignore Case
✅ Promise ZERO Charges in 5 Years
✅ Promise Fast Service Case Response
---
Product Highlights
SMART GATE SG-002 Stainless Steel Automation System for Swing/Folding Auto Gate
24VDC Heavy Duty Stainless Steel Arm
Max Gate Length : 3M
Max Gate Weight : 300KG per wing
Can Open Either Left, Right or Both Panel
Automatic Dual Speed Adjustment
Smooth & Silent Gate Operation
24 Hours Back Up Power for Power Failure
Coded Remote Control Allow 30 to 50 Meter Transmission
Italy Technology
Made in Malaysia
---
Installation Service
Professional High-Quality dependable auto gate installation service is provided in Klang Valley. Standard installation (Excluded Wiring) included Installation Service + Remote Control Setting + Testing & Commissioning.
Kindly make sure this 4 Wiring is ready to be entitle on our Standard Installation.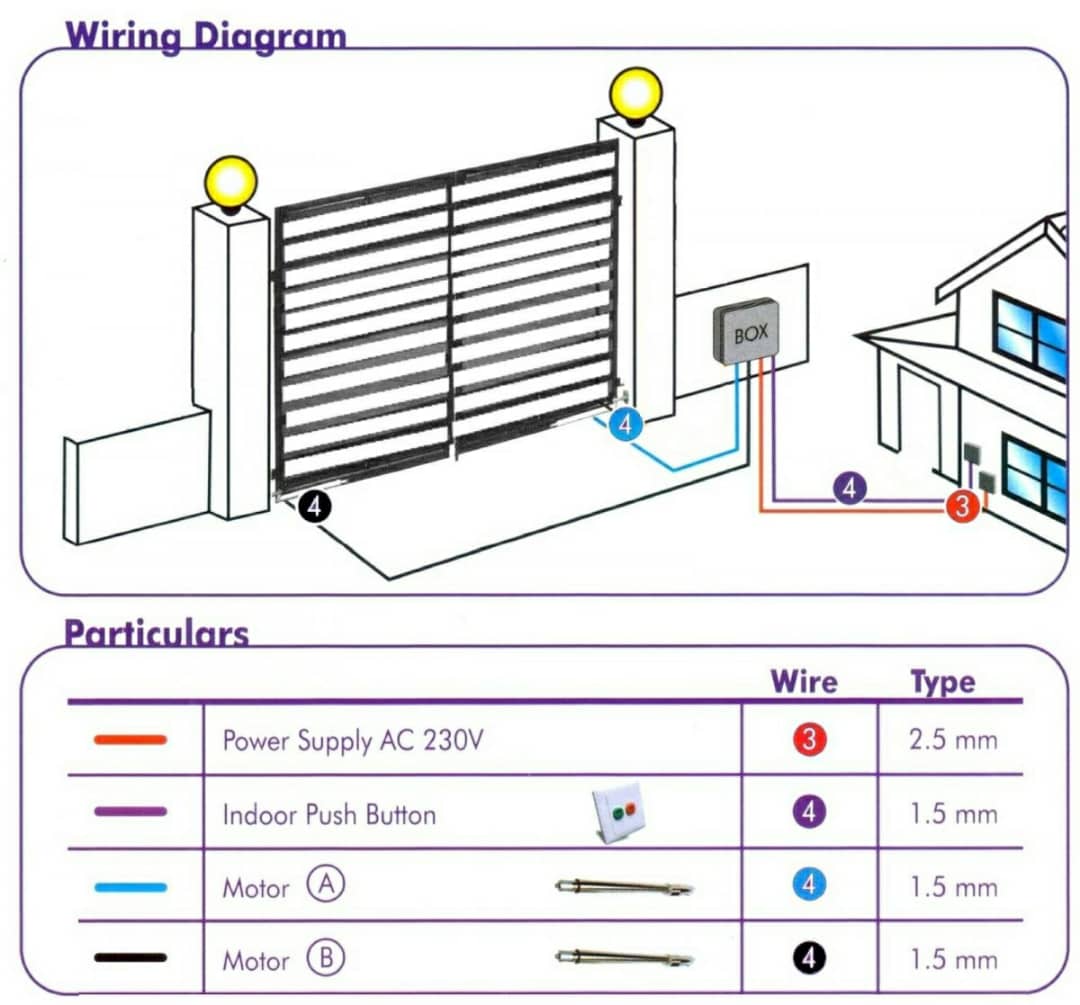 ---
Product Warranty
5 Years Full Coverage Worry-Free Warranty
---
What's in the Box?
SMART GATE SG-002 DC Motor Stainless Steel Arm x 2
Swing Panel Board x 1
Backup Battery x 1
Power Transformer x 1
433MHz Remote Receiver x 1
433MHz Keychain Remote Control x 3
Rubber Stopper x 1
Weatherproof PVC Box x 1
Installation Accessories and Brackets